I found the Tesco DAB Radio Model DR1403G when I was searching for a cheap DAB Radio for use at work, priced at £18 on the Tesco Website it was already competitively priced, however a search of an Auction site, found that Tesco had an outlet selling refurbished units for £12.50, so I made the purchase and now the DR1403G Dab Radio has arrived.
To be hon
est, priced at £12.50 my hopes weren't high, but the Tesco DR1403G is a nice compact little DAB radio, well built and solid, certainly much better than I had anticipated, and better built than some models which I had seen for £29.99. The radio is made of plastic, but it has a slightly rubberised quality, which makes it feel robust and like it would survive the odd knock without too much damage. The volume control is fitted to the front of the unit, with the various control buttons and digital display along the top.
The DR1403G can be powered either by 4x AA size batteries (not supplied) or by 5v supplied by a USB Cable, I was pleasantly surprised that the DR1403G Dab Radio was not only supplied with a generous 2m long USB power lead, but also came complete with the mains adaptor which plugged directly into a 13A socket and had a USB output socket, into which the supplied lead was plugged. The mains power supply is rated at 5V 1A,  and having a standard USB outlet, it could easily be used to charge phones, tablets or similar gadgets which charge via USB.
I also tried plugging the radio power lead into a standard USB socket on a PC and Laptop and it worked fine with no problems, so it could be powered directly from a computer, laptop or power pack.
When the Tesco DR1403G is powered up for the first time, it will immediately search for all of the available DAB radio stations, and store them. The top mounted digital display is small but bright and well lit so it is easily to read, and you can either scroll through the list of available stations and select the one you want to listen to, or build up a list of 10 presets of favourite stations and access them this way.
The sound quality is not hifi but quite comfortable to listen to with good tonal quality and no distortion at normal listening levels, and whilst the 1.5 watt audio output would not fill any large halls, it is more than ample for the home environment, and even my workplace which can be quite noisy. There is also an headphone output fitted to the DR1403G for private listening via a set of standard headphones.
Controlling the Tesco DR1403G Dab Radio is done via an array of small push buttons along the top panel, next to the digital display, each button is labeled with its function and is fairly easy to determine, without referencing the supplied instructions.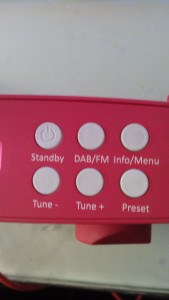 The DR1403G can be used either in DAB or Standard FM mode, and is supplied with a built in telescopic antenna which can be swiveled to improve weak Fm stations. Obviously the best sound quality was in DAB mode, and will probably be the mode which many people will prefer, however I found that FM reception was also adequate and perfectly acceptable, especially on a radio which cost less than £15.
Whether you are looking for a cheap DAB radio for use at home in the Kitchen or Bedroom, or to take with you to work or on Holiday, then the DR1403G Tesco DAB Radio will not disappoint and performs just as well as a radio costing twice the price.
The Tesco DR1403G is available to order from Tesco Direct for £18.00 however you can also buy the same unit from the Official Tesco Outlet Ebay Site for just £12.50. The units on the Tesco Outlet site are said to be refurbished, but mine was like brand new and came with a full 12 month warranty.